What is Wishon Shaft Selector?
Shaft Selector is a matching and comparison system for shafts, based upon the shaft profiling techniques developed by Tom Wishon. Shaft Selector provides detailed shaft data and allows for easy graphical comparison.
Shaft Selector is an ongoing project, amassing a database of empirical shaft data and analysis that will serve as an indispensable tool for the clubmaker, clubfitter or golf professional.
How do I subscribe to Wishon Shaft Selector?
Customers can register for a subscription by clicking here
Who is Wishon Golf?
Wishon Golf is the work and design of Tom Wishon, who has been recognised as one of the industry leaders in the research of golf club and shaft design, and clubfitting performance technology for more than 25 years of his 35 years in the golf equipment industry. During the course of his 33 years in clubhead design, Tom Wishon has designed over 350 original and innovative clubhead models, which include more than 50 different golf clubs and shaft design technology firsts - more than any single person in the 500 year history of the game.
Wishon Golf is operated by Diamond Golf International, Europe's largest distributor of golf components.
How to use the Shaft Selector
1. Pick your target shaft
Once logged in you'll be able to select your target shaft from our shaft list. Simply locate your chosen shaft by searching or browsing through the list.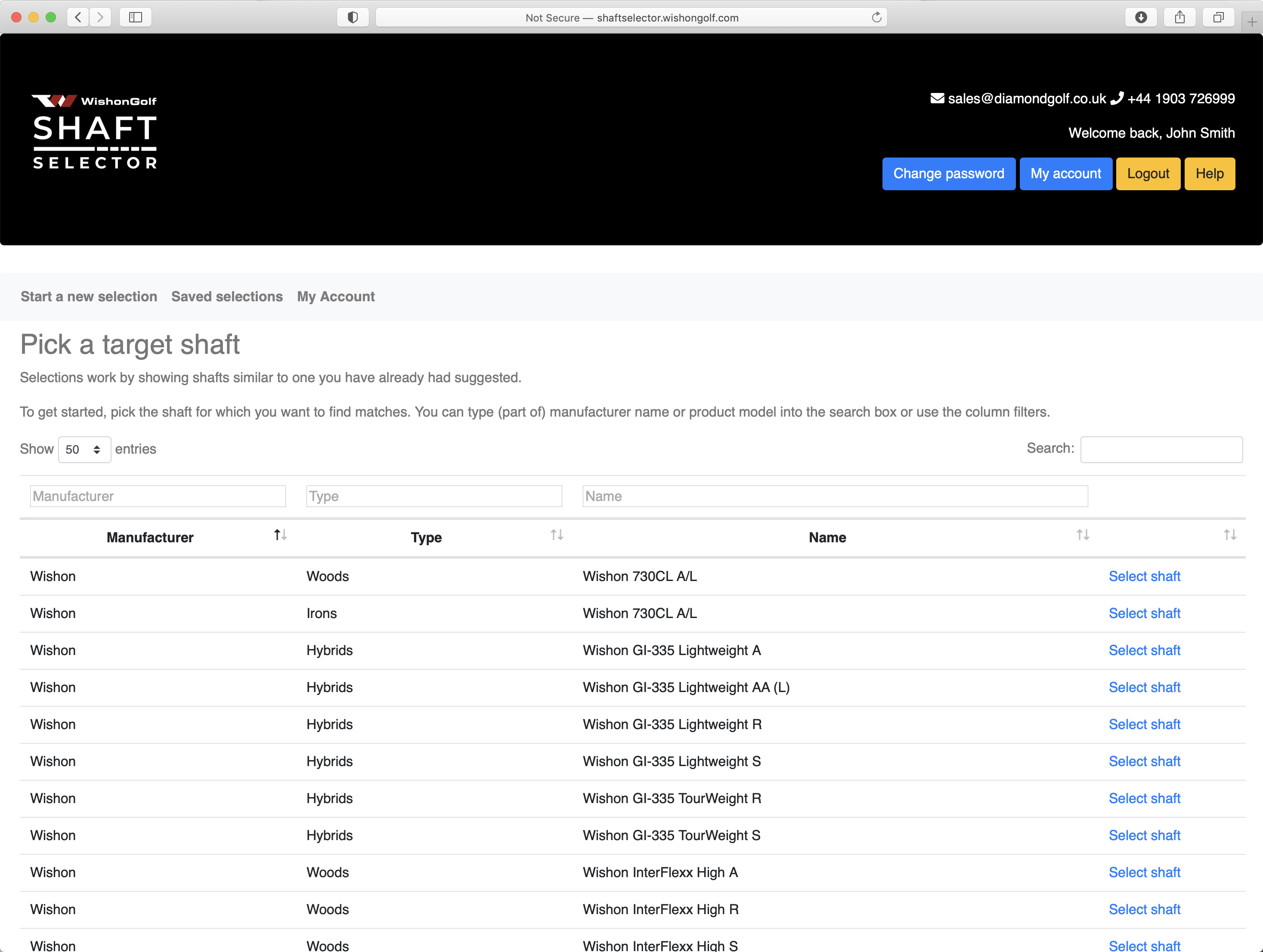 2. Selection Screen
You'll then be presented with the full selection screen: from here you can select other shafts for matching or comparison.
On the left, you will see the 'Find Matches' panel. To the right you will see the Frequency and Frequency Difference graphs, which are both expandable.
The first data table is your Selected shafts. The shaft data displayed includes bend profile, weight and swing speeds. Underneath this are the Matches which are displayed according to your match criteria.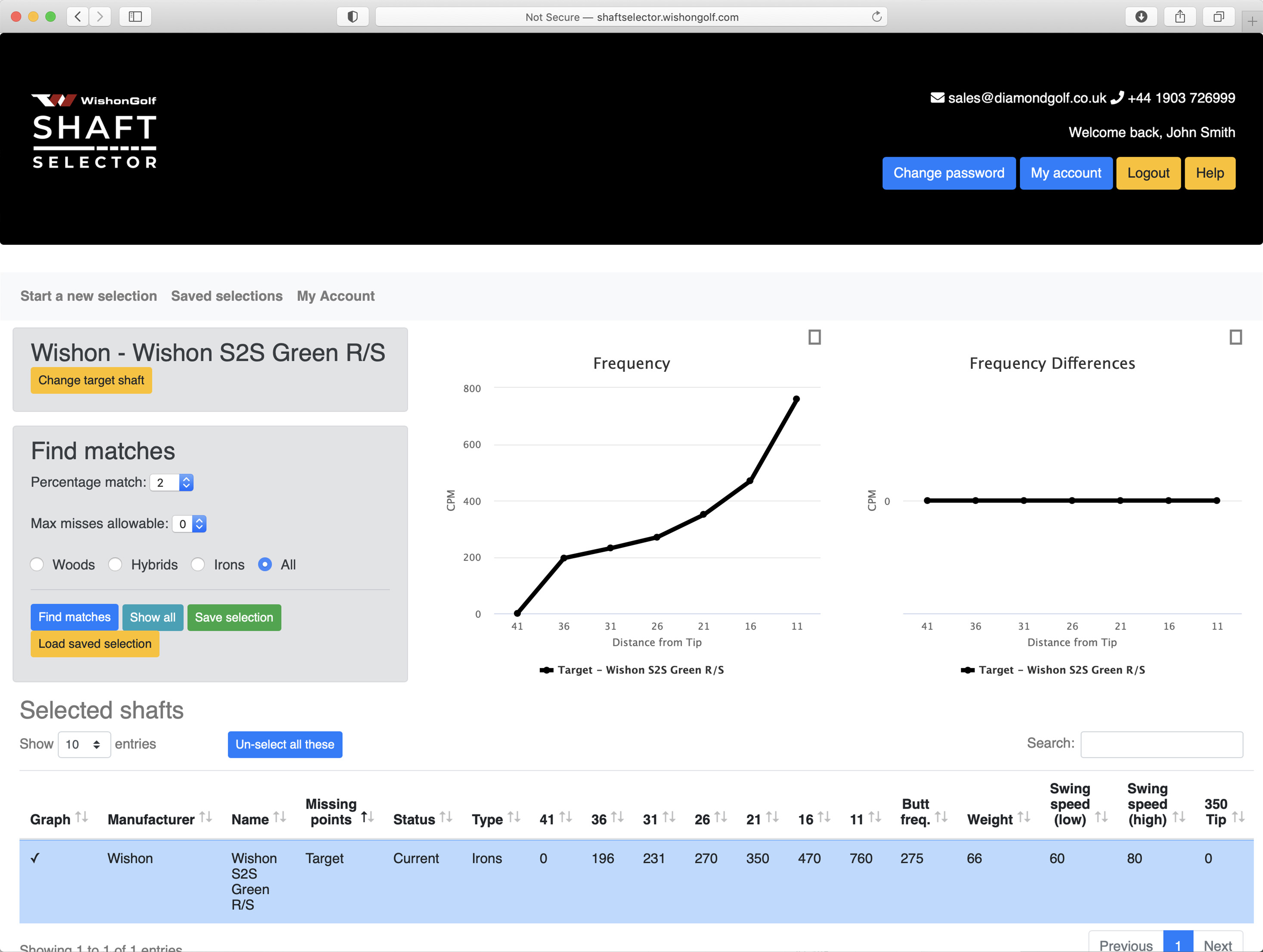 3. Find Matches
There are several main criteria for shaft matches:
Percentage Match: Match criteria is calculated according to percentage difference, ranging from 0 (lowest) to 5 (highest) which can be set in the 'Find Matches' panel.
Max Points Out: sets the number of points that do not have to meet the selection parameters relative to the target shaft - these can be any of the shaft profile points. Selecting '7' in this field would result in all shaft entries being displayed in your Matches table.
Type of shaft: to restrict your matches to a particular shaft type.
Once you have entered your match criteria, click 'Find Matches' and the results will appear in the Matches table below.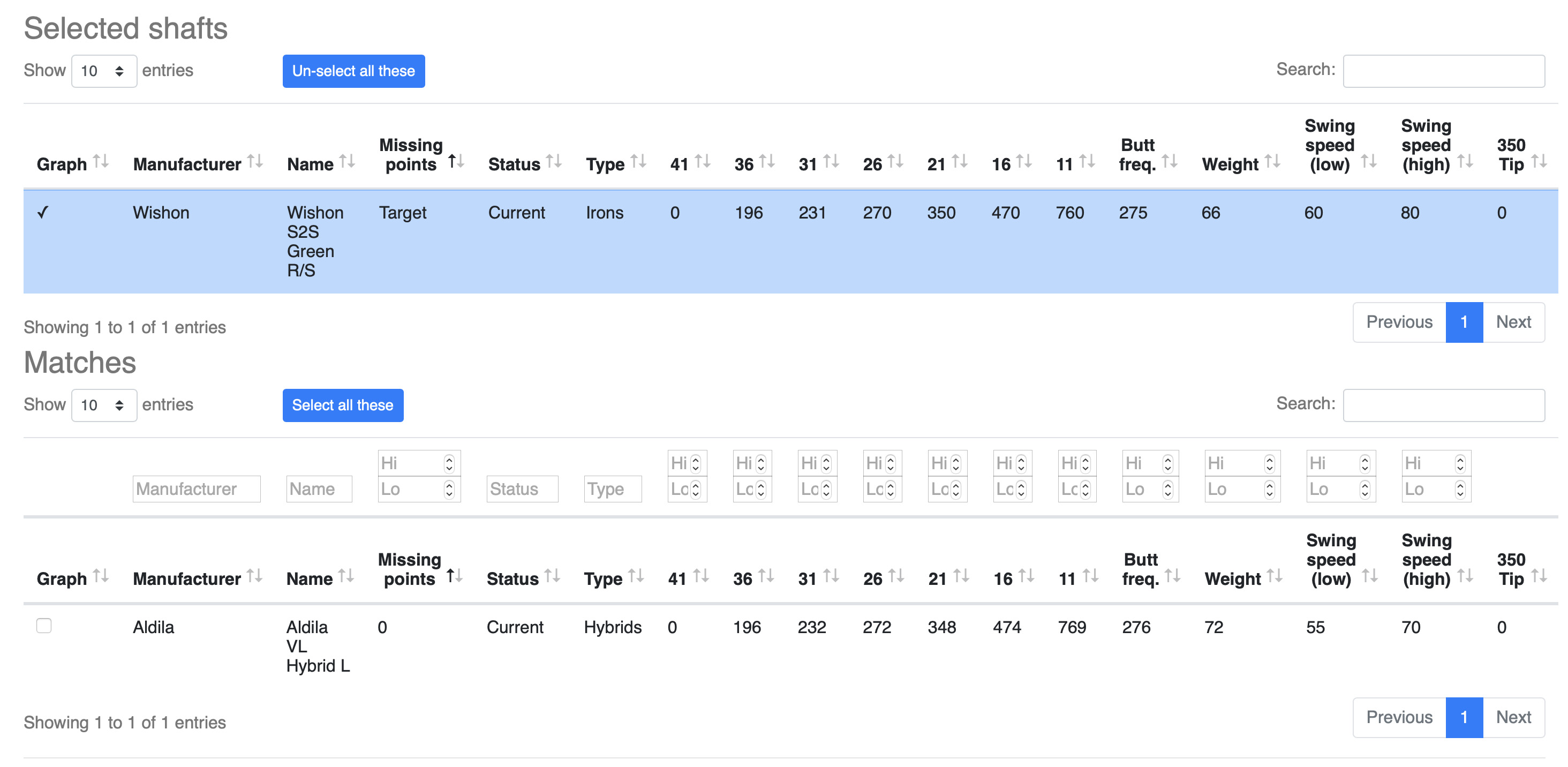 4. Comparing Shafts
You can now see and compare shafts in the Matches table below. To further reduce the matches from your criteria you can use the filter and sort functions above each column to produce the desired matches.

All the shafts in the Matches table can be added to the Selected Shafts table above – simply click the checkbox to add it to the table or click 'Select All' to add all the matched shafts. To remove these, click the checkbox again, or 'Deselect All'.
Any selected shafts will now also be viewable in the two graphs above for comparison.

---
Saving and loading selections
Shaft Selector also gives you the option to save and load your selections for future reference. You can save or load a selection in the 'Find Matches' pane. View your selections by clicking 'Saved Selections' on the navigation bar.
My Account
Here you can find your account details, subscription status and set preferences for brands included in your shaft selections.